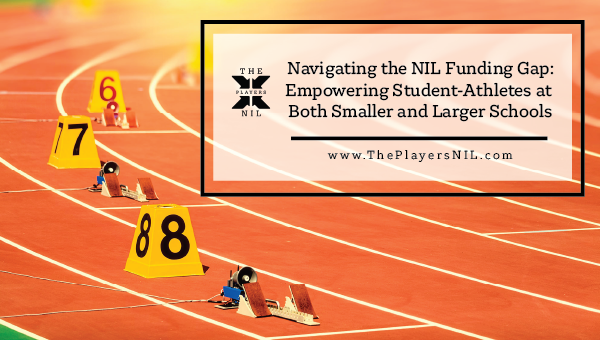 Navigating the NIL Funding Gap: Empowering Student-Athletes at Both Smaller and Larger Schools
The world of college athletics is changing rapidly, and some schools are feeling the impact more than others. With the collision of NIL and the transfer portal, the gap between major athletic programs and their smaller counterparts has only grown wider. This gap has likely existed for years, but recent news stories have brought it to the forefront of the conversation. Factors like coach salaries, facilities, and media rights deals have long separated the top-tier programs from the rest.
But there is hope for smaller schools and their student-athletes. Rather than viewing NIL as a threat, it can be viewed as an opportunity to support our young athletes and help them achieve their career goals. By using NIL as an educational platform and a lifelong learning experience, we can create new opportunities for student-athletes to connect with their communities and build their brands.
Overcoming Challenges for Smaller Schools
Despite the funding challenges, there are avenues for students at smaller schools to find NIL opportunities. Collaboration with local businesses and alumni networks can provide valuable partnerships, many of which can help student-athletes connect with their communities, build their personal brands, and secure partnerships that align with their values and interests.
Moreover, smaller schools can focus on education and mentorship as key pillars of their NIL strategy. By equipping student-athletes with the knowledge and skills to navigate NIL opportunities, they can empower them to make informed decisions and maximize their potential earnings and experiences. Providing access to resources such as financial literacy training, personal branding workshops, and legal guidance can level the playing field for student-athletes at smaller schools.
Maximizing Opportunities at Larger Schools
Although they have their advantages, larger schools are also responsible for providing as many resources as possible for student-athletes. Instead of solely focusing on high-profile athletes, schools should aim to create a supportive environment that promotes inclusivity and equal access to NIL education and guidance. By embracing a holistic approach, larger schools can foster a sense of community, where all student-athletes have the chance to thrive.
In addition, larger schools should consider implementing mentorship programs, where more experienced student-athletes can guide and support their peers in navigating NIL endeavors. Sharing experiences, insights, and strategies can empower student-athletes to make the most of their NIL opportunities and gain experiences that benefit them beyond their athletic careers.
As the college athletics landscape continues to evolve, the gap in NIL funding between smaller and larger schools remains a significant challenge. However, by focusing on education, community partnerships, and mentorship, schools of all sizes can empower their student-athletes to leverage NIL opportunities effectively and give them the chance to succeed both on and off the field. Smaller schools can tap into local resources and prioritize education, while larger schools should embrace inclusivity and provide mentorship programs. Together, we can bridge the funding gap and make NIL a vehicle for positive change in college athletics.