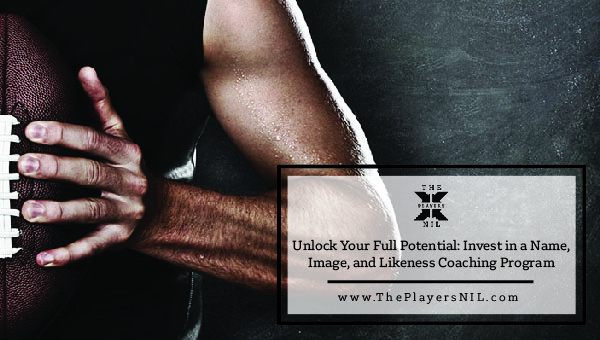 Unlock Your Full Potential: Invest in a Name, Image, and Likeness Coaching Program
Are you ready to take control of your personal brand and maximize your earning potential? Today, I'm excited to introduce my Name, Image, and Likeness (NIL) program, a game-changer for individuals looking to navigate the ever-evolving landscape of NIL opportunities.
In recent years, the world of collegiate and professional sports has seen a seismic shift. With the introduction of NIL rights, athletes, influencers, and content creators now have the power to monetize their personal brand like never before. But here's the catch – success in this space requires knowledge, strategy, and a solid foundation.
That's where The Players NIL coaching program comes into play. Here are some compelling reasons why you should consider taking it:
Empowerment through Knowledge: Knowledge is power, and in the NIL era, understanding your rights, responsibilities, and opportunities is essential. This NIL coaching program is designed to equip you with comprehensive knowledge about NIL, from legal aspects to branding strategies.
Maximize Earning Potential: Whether you're an athlete, an influencer, or someone building their online presence, the program provides you with proven techniques to maximize your earning potential. Learn how to secure partnerships, negotiate contracts, and optimize your online presence.
Risk Mitigation: The NIL space is rife with legal and ethical complexities. The program includes guidance on navigating these challenges, ensuring you make informed decisions that protect your reputation and future opportunities.
Customized Strategies: One size does not fit all in the world of NIL. We can provide personalized strategies tailored to your unique circumstances, helping you create a roadmap for success.
Continuous Updates: The NIL landscape is dynamic, with rules and regulations constantly evolving. Getting started with The Players NIL's coaching program gives you access to ongoing updates and insights to stay ahead of the curve.
Community and Support: Join a community of like-minded individuals on the same journey. Share experiences, collaborate, and learn from one another as you build your brand.
Future-Proofing: NIL opportunities aren't going away; they will only expand. By investing in your education now, you're future-proofing your career and setting yourself up for long-term success.
Ethical Brand Building: The program emphasizes ethical brand building, ensuring that your personal brand aligns with your values and resonates with your target audience.
In a world where your name, image, and likeness can be your most valuable asset, making informed decisions is crucial. The Players NIL coaching program is your roadmap to success in this exciting new era.
Don't wait to seize the opportunities that await you. Invest in yourself, your brand, and your future today. Let's work together to unlock your full potential and maximize your Name, Image, and Likeness rights!
Are you ready to take the next step toward your NIL success story?
Contact us
for more information on how we can help empower you to achieve your goals. Let's get started today!