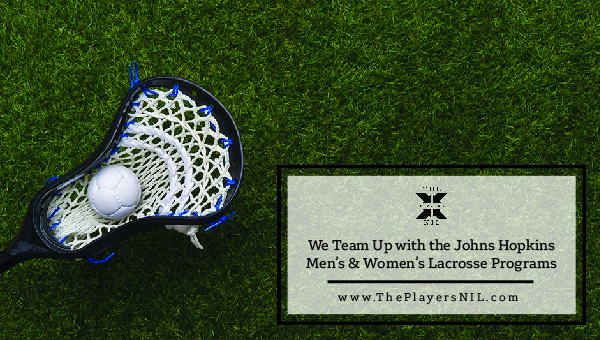 We Team Up with the Johns Hopkins Men's & Women's Lacrosse Programs!
We are excited to announce that we are working with the student-athletes of the men's and women's lacrosse programs at Johns Hopkins University!
For those new to the world of college lacrosse, both the men's and women's lacrosse teams at Johns Hopkins compete in the Big Ten Conference in Division I.
Men's lacrosse is one of the most successful programs in college sports, with 44 national titles and nine since men's lacrosse became an NCAA sport.
So, you can imagine we are thrilled to help these student-athletes with their abundant NIL opportunities.
What's most intriguing about the announcement is that a collective – a passionate group of alumni or businesses that are independent from the school that pool money to facilitate NIL deals with student-athletes – has formed that will benefit JHU men's and women's lacrosse in their NIL endeavors.
The student-athletes will have opportunities to monetize their NIL and will now have the additional guidance from the The Players NIL Five Pillars Course to help them make the best decisions about their NIL opportunities. 
When it comes to NIL and life in general, we are only limited by our creativity and imagination.
We are thrilled to fly high with the Blue Jays this season (even if our Pillar 1 Leader, Dave Meluni, is a Syracuse grad!). 
Reach out to us if you are interested in seeing how we can help your student-athletes reach their NIL goals.